Family owned and operated, Gates Auto Group is proud that we not only form lasting relationships with our customers, but we also form strong bonds with the Connecticut communities we serve. Community involvement is an important part of our values of service, relationships, responsibility, respect and, most of all heartfelt honesty. These values are a few of the many good reasons why Gates Auto group is second to none.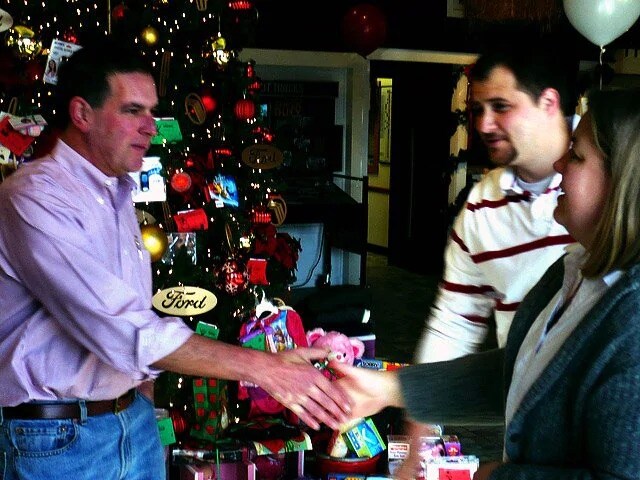 We appreciate all the community has done to support our dealerships throughout the years. By partnering to build stronger communities, we hope to enhance the well-being of our loyal customers, employees and the neighborhoods where they work and live.
We are a proud supporter of the Jolly John's Keep You Truckin' Fund. The 
Jolly John's Keep You Truckin' Fund helps to provide financial relief to cancer patients, as well as their families. This charity lets them worry about what is most important, getting better.  
Along with donations to the Jolly John's Keep You Truckin' Fund, we also donate to many other local charities. We believe that supporting our community is the best way to give back to them for everything they have done to help make this dealership as successful as it is.
A few of the other places we have donated to include:
159th Woodstock Fair
Access Community Action Agency
Benefit for Christian Calhoun
Chaplin Volunteer Fire Department
Children's Cancer Research Fund
Columbia Parks & Rec Department
EASTCONN Peforming Arts Magnent School
EO Smith High School
Eric LeClair Nascar Weekling Racing Series Modified
Fletcher Memorial Library, Hampton
Forever in My Heart Foundation
Friends of Goodwin Forest
Glocester Lions
Hampton Fire Company
IHSP Diaper Bank of NECT
Judy Nilan Foundation
Kicking Cancer in the Cornhole 
Lebanon Children's Clothing Wardrobe
Lebanon Country Fair
LeganDeary Scholorship
Make A Wish
Mercer Monument Works Toy Drive
MOMS Club of Hebron
Natchaug Hospital
New London County 4-H
Northeast Cancer Crusaders
Northeast CT Community Orchestra
Northeast Opportunities for Wellness (NOW)
Northeastern Chamber of Commerce
Parents of Powerhouse
Plainfield Little League
Putnam Aspinock Historcal Society
Putnam High School
Putnam Knights of Columbus #64
Putnam Little League
Putnam Rotary Club
Quiet Corner Garden Club
Ryan S Doyle Memorial Golf Tournament
Scott Marquis Family Benefit
St James School Putnam, CT
St Mary- St Joseph School, Willimantic
Steve Bousquet Memorial Golf Tournament
The Arc of Eastern Connecticut
Tolland Eagles Athletic Department
Town of Columbia
Town of Putnam
Troop 27 Boy Scouts of America
UCONN HuskyThon- CT Children's Medical Center
UCONN Men's Soccer
UCONN Woodsmen
VFW Coventry, CT
Willimantic/Windham NAACP
Windham Hospital
Windham Theatre Guild
Windham-Tolland 4H Camp
Wishes On Wheels
Woodstock Academy
Woodstock Fair Go-Kart Racing
Please understand that we would love to donate and sponsor everyone/everything but it just is not possible. We do need all requests to be received at least two months prior to the event. Please allow up to two weeks from submission to hear back from us.