2019 Kia K900 Introduction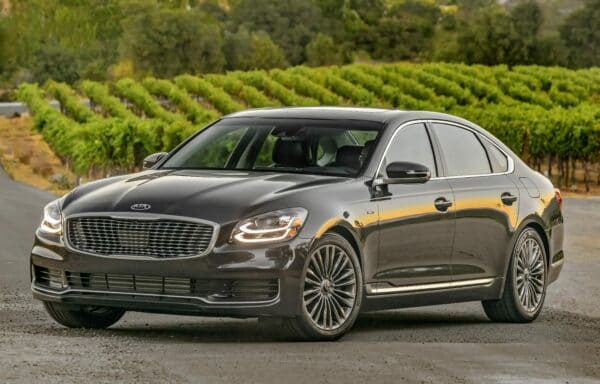 The redesigned 2019 Kia K900 begins its second generation with a touch of spirit that the first generation bypassed with its conservatism. It's still a cruiser, still more like the Kia Cadenza family sedan than the new Stinger sport sedan.
The K900 also remains close to the Genesis G90 sedan, while being a bit longer and wider than before, enabling more interior space and extending its lead as Kia's largest sedan. It's 201.6 inches long with a wheelbase of 122.2 inches..
The cabin is beautifully designed. The exterior styling features a splashy oblong and horizontally ribbed grille, sharp LED headlamps with matching LED taillights, and understated character lines on the sides. The ride and handling are much improved thanks to the longer wheelbase and more rigid body structure.
The spirit continues with its twin-turbo V-6 engine, with no apologies. At 3.3 liters it's significantly smaller than the 5.0-liter V-8 that powered the previous K900. But the twin-turbo V-6, borrowed from the hot Stinger, makes big horsepower with 365, and 376 pound-feet of torque. With its 8-speed automatic and all-wheel drive, it can accelerate from 0-60 mph in 5.7 seconds, quick enough for a cruiser.
The fuel mileage is okay, with an EPA rating of 18 mpg city, 25 highway, 21 combined.
The K900 hasn't been crash-tested, and might not be because of its cost. Standard safety features include forward-collision warnings with automatic emergency braking, blind-spot monitors with side-view cameras, active lane control, and a surround-view camera system that warns the driver who might begin to open the door when traffic is coming from behind–including, importantly, a bicycle rider.
The K900 also has available driver-assistance features such as stop-and-go cruise control, and the ability to steer and brake at low and moderate speeds.