2018 Kia Stinger Introduction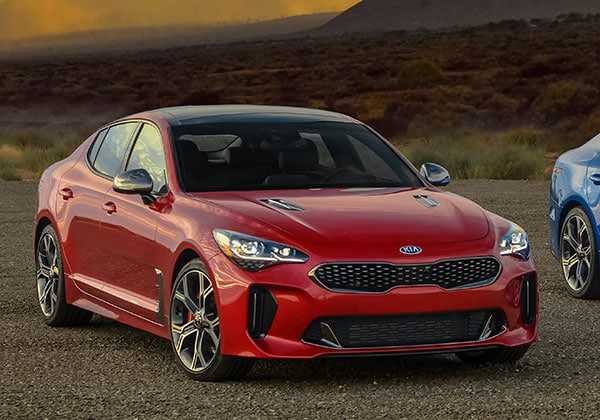 The Korean manufacturer Kia has been good at imitating BMW, and they do it again with the Kia Stinger, an all new model. It's a rear-wheel-drive compact/midsize vehicle that Kia considers a grand touring car to challenge the BMW 3 Series.
Technically it might be a hatchback, because the back opens like a hatch, but it's more of a fastback sedan, with a long hood and continental styling. Its performance is serious and its price low. It's powerful, practical, upscale, and fun to drive.
With a wheelbase of 114.4 inches and length of 190.2 inches, it's a bit bigger than the 3 Series, or the Mercedes-Benz C-Class, Lexus IS or Audi A5 Sportback, all of which might be considered rivals. It's more the size of a Lexus GS sedan.
The base engine is 2.0-liter turbocharged four cylinder making a good 255 horsepower and 260 pound-feet of torque. There's also GT model with a 3.3-liter twin-turbo V6 making an attention-grabbing 365 horsepower and 376 pound-feet. Both engines are mated to a Kia-built 8-speed automatic with paddle shifters. All-wheel drive is available.
The Stinger with its 2.0-liter engine and rear-wheel drive gets an EPA-rated 22 mpg City, 29 Highway, 25 Combined. The V6 is rated 19/25/21 mpg.
Standard safety features include seven airbags. The top model, GT2, comes standard with all safety features that are optional on the other models: forward collision warning with automatic emergency braking, adaptive cruise control with stop and go, rear cross-traffic alerts, blind-spot monitors, automatic high beams, driver attention alerts, lane-departure warnings, active lane control, and dynamic headlights that point into turns.