2018 Kia Soul Introduction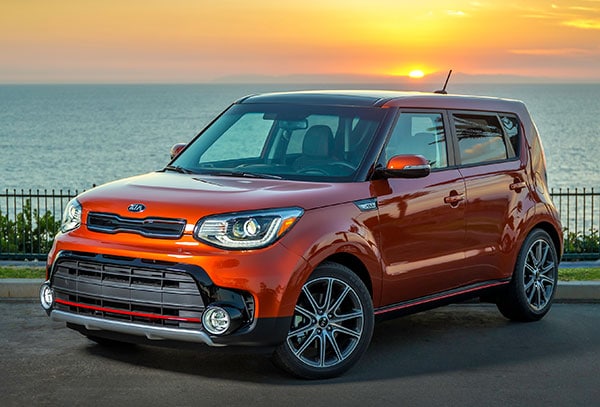 The Kia Soul is a compact hatchback with good handling and an efficient cabin layout, and boxy styling. Last redesigned for 2014, Soul got a new turbocharged engine for 2017. For 2018, Kia Soul has no significant changes.
There are three engines for three models. The base model gets a 1.6-liter four-cylinder making 130 horsepower, mated to a six-speed manual or six-speed automatic. It's slow and the automatic transmission searches too much for the correct gear.
The Plus model (which Kia calls +) gets a 2.0-liter four that makes 161 horsepower, mated to a six-speed automatic. It's quicker, but the transmission does the same thing.
The Exclaim (!), gets a 1.6-liter turbocharged four making 201 horsepower, that's also used by the Hyundai Elantra Sport. It's mated to a smooth seven-speed dual-clutch automatic manual transmission. It responds with spirit when you accelerate with spirit, however at low speeds there's turbo lag.
Fuel mileage is good for the Soul but not at the top of its class, as it's not a wedge or jelly bean; its boxy shape is less aerodynamic. The slow 1.6-liter engine with sluggish six-speed automatic gets 27 Combined EPA-rated miles per gallon, while the quicker 2.0-liter gets the same 27 mpg. The quickest engine, the 1.6-liter turbo in the Exclaim model, gets 28 mpg. There's also a Soul EV electric vehicle.
Soul aces crash testing, impressive for a compact. It gets five stars overall from the NHTSA, and the top Good scores from the IIHS. Six airbags are standard, and a rearview camera is standard on the Exclaim and Plus. There's an available safety suite including blind-spot monitors with rear cross-traffic alert, lane departure warning, and forward collision warning. The warranty is noteworthy. Five years or 60,000 miles, with powertrain for 10 years or 100,000 miles.