2017 Kia Sportage Introduction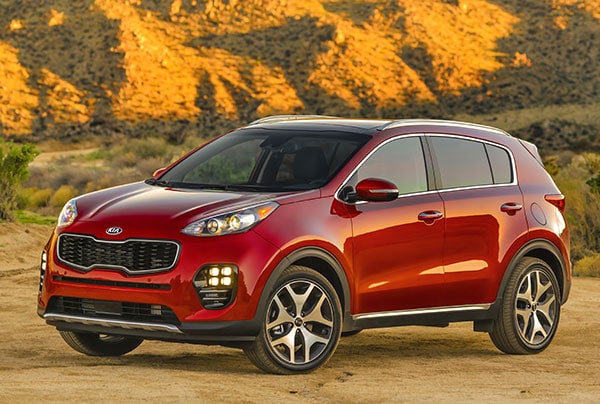 The all-new 2017 Kia Sportage enters its fourth generation with a major redesign that puts a little less emphasis on sport and a lot more emphasis on quality and comfort. Not to mention an intriguing new face.
When the Sportage made its debut, the compact crossover SUV field was thinly populated. That's not the case today. The segment is chock-a-block, with over a dozen entries, all with virtues. Getting a new vehicle to stand out from the crowd is a challenge.
What's the right recipe? Uninhibited styling? Athletic dynamics? Leader-of-the-pack performance? The previous generation projected a sporty image, fortifying it with a lively turbo engine option and suspension tuning that some judged to be a little too stiff.
The 2017 Sportage takes a different approach, emphasizing elements that almost always pay off in the showroom: quality interior furnishings, plenty of room, creamy ride, quiet operation, safety features in step with the times, and a good value story.
In addition to moving suspension tuning toward the comfort side of the ledger, Kia has dialed back on power. Displacement of the two engine choices is unchanged: a naturally aspirated 2.4-liter and a turbocharged 2.0-liter. Both engines are direct-injection four-cylinders, and both have received engineering attention to enhance efficiency.
At 181 horsepower and 175 pound-feet of torque, output of the 2.4-liter four-cylinder is about the same as that of the 2016 version. However, the turbo's ratings drop from 260 hp and 269 lb-ft to 240 and 260, respectively. Both engines are paired with a 6-speed automatic transmission.
All-wheel drive is optional, front-wheel drive is standard. The all-wheel drive uses a new Magna system that anticipates road irregularities.
Kia cites an impressive 39 percent improvement in structural rigidity. But the Sportage has gained substantially at the scales, with curb weights running up to the two-ton frontier for the line-topping SX Turbo with all-wheel drive.
EPA fuel economy ratings range from 23/30 mpg City/Highway for the basic front-drive Sportage LX to 20/23 mpg for Sportage SX AWD turbo.
Safety features include forward collision warning and autonomous emergency braking; lane departure warning (which emits a particularly irritating beep but lacks lane-keeping); blind spot detection; and rear cross traffic alert.