2017 Kia Rio Introduction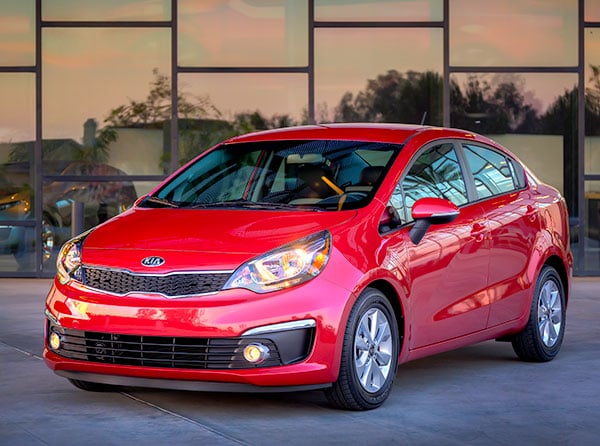 The Kia Rio subcompact remains strong on value but it hasn't kept up with the times. Offered in four-door sedan and five-door hatchback form, Kia Rio promises good gas mileage and an attractive base price. For a modestly priced car, it's quite stylish, but buyers need to expect a few compromises.
The 2017 Kia Rio is the third generation of the model launched as a 2012. Little has changed since. A rearview camera is an option on 2017 Kia Rio models and there are some new colors. Otherwise, the 2017 Rio is a carryover from 2016.
Its direct-injected four-cylinder engine makes the Rio competent but far from quick, producing 138 horsepower and 123 pound-feet of torque. Most models come with a 6-speed automatic transmission, though the base Rio LX sedan offers a 6-speed manual gearbox. Fuel economy varies only slightly by transmission or trim level, EPA-rated at 30 or 31 mpg Combined city and highway.
As for safety, the Kia Rio trails its competition, with relatively weak crash-test results. Federal testers with the National Highway Traffic Safety Administration gave it a four-star (out of five) overall rating. Furthermore, back-seat occupants risk increased injury if a side-impact collision should occur. That's because the left rear door could intrude further into the seat area than is acceptable, raising the chance of thoracic injury. Results also were mixed in crash-testing by the Insurance Institute for Highway Safety, which gave the Rio a variety of ratings: Marginal, Acceptable, and Good. A rearview camera is an option.
Not many cars lack standard power locks and windows anymore, but the base Rio LX sedan is one of them. They're available as options, or by moving up to an EX edition. Only the EX sedan comes standard with a satisfying selection of comfort/convenience amenities.
An Eco package ($600) or a Designer package ($750) may be added, but not both. The Eco group includes a rearview camera and stop/start technology, allowing the engine to shut off at stoplights as a fuel-saving measure. The Designer package adds leather-trimmed cloth seats and contrast stitching, as well as a rearview camera. Neither a sunroof nor heated seats are available.