2017 Kia Niro Introduction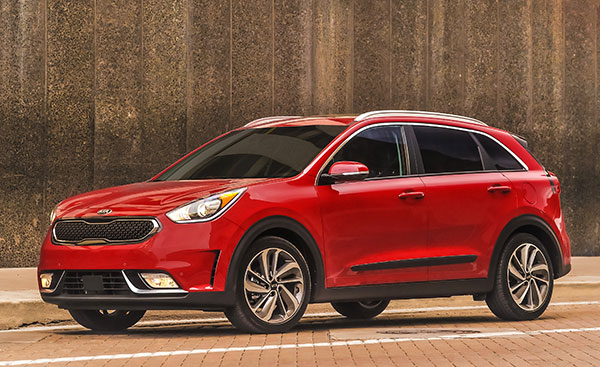 The 2017 Kia Niro is a totally new subcompact wagon with a hybrid gas-electric powertrain. Niro shares its platform with the Hyundai Ioniq hatchback.
Kia Niro uses a 0.6-liter four-cylinder Atkinson cycle engine with direct fuel injection making 114 horsepower, mated to a Kia-built six-speed dual-clutch automatic manual transmission. Between the engine and transmission there is a 32-kilowatt (43-hp) electric motor that acts as a generator, getting its energy from braking and deceleration, and charging a 1.6-kilowatt-hour lithium-ion battery. The Niro can run on electric power alone, but only for a bit. The total power is 139 horsepower with 195 pound-feet of torque.
EPA Combined mileage is 43 to 50 miles per gallon, depending the model (the Prius v is rated 41 mpg Combined). The FE model rates 52 mpg City, 49 Highway, and 50 Combined. But in the Eco mode, to reach that mileage, the performance is sluggish. The top Touring model is rated at 46/40/43 mpg.
The styling, cabin, content, and economy are attractive. There's good room inside for passengers and cargo. It drives nicely and handles well, thanks to light weight and a low center of gravity. Niro feels sportier than the Toyota Prius. In Eco mode, however, it feels lethargic, slow to respond to the power pedal.
Kia calls Niro a crossover. It doesn't come with all-wheel drive, however, so we don't know what makes it more of a crossover than a Prius v. The low and wide stance, five-door body, and vertical liftgate make it feel like a wagon. Styling cues are what makes it a crossover. However you label it, it's practical and economical.
Safety equipment includes seven airbags and a rearview camera with guiding lines. Most of the latest safety features are available including blind-spot monitors with rear cross-traffic alert, lane-change assist, adaptive cruise control, lane-departure warning, and autonomous emergency braking.