2017 Kia K900 Introduction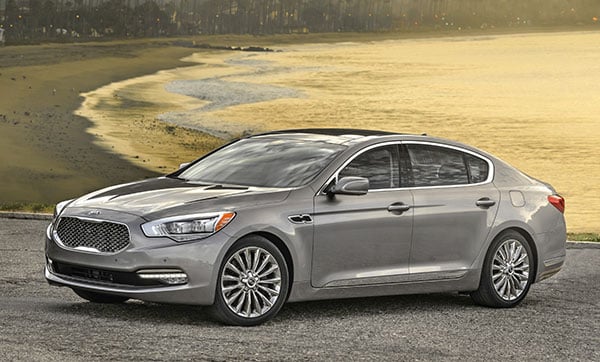 The Kia K900 rear-wheel-drive sedan, launched for 2015, continues into the 2017 model year largely unchanged except for minor equipment revisions. The lineup has been narrowed to two trim levels: Premium and Luxury, the latter offered with either V6 or V8 power. For 2017, the VIP option packages also include a head-up display, automatic emergency braking, and adaptive cruise control.
Long known for value-priced smaller vehicles, the South Korean automaker has established a fresh reputation for stylish mainstream vehicles. Kia also has been seeking to move upscale, with the full-size K900 as the prime example.
Three configurations are available: Premium V6, Luxury V6, and Luxury V8. The 3.8-liter V6 engine develops 311 horsepower, while the 5.0-liter, direct-injected V8 generates 420 horsepower and 376 pound-feet of torque. Both engines mate with an 8-speed automatic transmission. Each powertrain is related to those used in the Genesis G80, from Hyundai's luxury division. All-wheel drive is not available for the K900.
Passenger space approaches that of Mercedes-Benz's big S-Class sedan, which costs far more than Kia's top four-door. Standard equipment in each trim level ranks about average for the K900's category.
Quiet-running and comfortable, the K900 lacks any particularly noticeable features that might distinguish it from full-size rivals. Whether it qualifies as a true luxury sedan, rather than a premium model, or even a plusher offshoot of a mainstream sedan, is debatable.
Neither the National Highway Traffic Safety Administration nor the Insurance Institute for Highway Safety has crash-tested the K900. Although active-safety technology is available, collision-avoidance systems are extra-cost options, offered for Luxury trim level. Most K900 competitors have made such valuable safety items standard, even in their base trim levels.
Blind-spot detection with rear cross-traffic alert is standard, along with a rearview camera and eight airbags. Lane-departure warning and a surround-view monitor are standard on the Luxury V8 model, and optional for the Luxury V6. Adaptive cruise control and automatic emergency braking may be added to either Luxury edition, as part of a $5,000 or $6,000 VIP Package.
Although little in the K900 qualifies as opulent, or differs much from what's available in German luxury sedans, Kia's top model commands far fewer dollars at the dealership.