2017 Kia Cadenza Introduction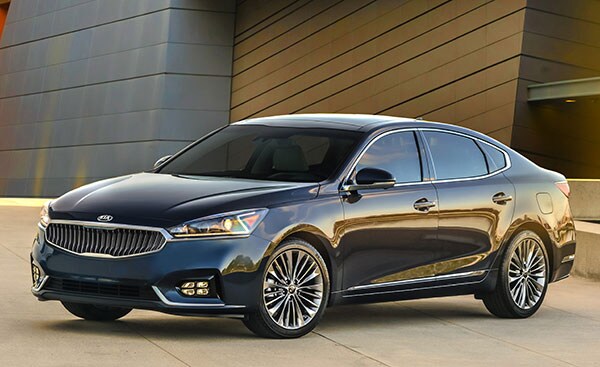 Redesigned for 2017, Kia Cadenza is more refined than the first-generation model and presents a more polished appearance. Though the larger K900 has taken over as Kia's flagship sedan, the 2017 Cadenza looks like it has moved into a higher class than before and it feels more like a luxury car than previously.
Each gets the same powertrain. Largely a carryover, Kia's 3.3-liter V6 engine develops 290 horsepower and 253 pound-feet of torque, driving the front wheels through a new 8-speed automatic transmission. (First-generation Cadenzas had a 6-speed.) Moving to an 8-speed helps with both drivability and fuel usage.
Developers of the current Cadenza specified substantial use of high-strength steel, as well as adhesive materials. As a result, the 2017 body is lighter as well as stiffer. These modifications also paved the way for suspension improvements, adding to the new level of refinement.
On the outside, the 2017 Cadenza looks considerably more elegant than the original. In addition to abundant leg space in the back seat of the luxury-level cabin, occupants can expect a blissfully quiet journey.
Neither the National Highway Traffic Safety Administration nor the Insurance Institute for Highway Safety has crash-tested the latest Cadenza. Safety starts with nine airbags, including knee airbag for the driver. A rearview camera is standard on all three versions.
Technology and SXL trim levels come with several standard active-safety features: lane departure warning, automatic emergency braking, and adaptive cruise control. None of those items can be installed on the Premium version, but an available option group includes lane-change assist and blind-spot monitoring with rear cross-traffic alert.
Also standard on the two upper trim levels are automatic high-beam headlights and a surround-view camera system. The SXL edition adds a head-up display, which has an unfortunate tendency to disappear if the driver is wearing polarized sunglasses. All Cadenzas contain a version of Kia's UVO infotainment system, including Apple CarPlay and Android Auto. A panoramic sunroof is standard on Technology and SXL models, and optional for Premium trim. Upper trim levels have no options at all.