2016 Kia Soul Introduction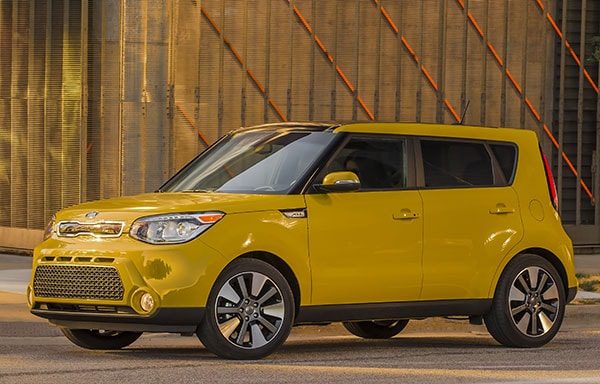 The Kia Soul is a small and fashionable hatchback that's known, among other things, for its efficient use of space and money, its comfort, and its smooth ride. Sometimes it feels more like a small boxy wagon than a five-door. It doesn't try to be swoopy on the outside, while it displays a touch of sophistication on the inside, as the connectivity and infotainment systems hold their own against those in more expensive cars. In a nutshell, the Soul finds its own niche, which isn't easy to do in that class.
The 2016 Soul is the third year of the second generation. There are no major changes for 2016.
The base engine is a 1.6-liter four cylinder making 130 horsepower and 118-pound-feet of torque, and it doesn't feel like enough power with the optional automatic transmission, while the standard 6-speed manual pulls it better.
The Soul Plus and Exclaim models come with a 2.0-liter, direct-injection four-cylinder that makes 164 hp and 151 lb-ft of torque, with only the 6-speed automatic available. It's sprightly enough, although it's geared fairly tall to get good gas mileage, so the auto transmission downshifts a lot on the highway, especially long uphill climbs, where it sometimes goes hunting, up, down, up, down.
We recommend the 2.0-liter engine. The base 1.6-liter is EPA rated at 24/30/26 mpg City/Highway/Combined, while the more powerful 2.0-liter engine does better, with 24/31/27 mpg, thanks to its direct fuel injection.
There's also an all-electric Soul, with three models: Soul EV-e, EV, and EV+, available in California, Oregon, Georgia, New Jersey, New York, and Maryland. The Kia Soul EV has been well-received, and we think it's one of the best EVs around, with its room and trim levels.
The Soul EV uses an air-cooled lithium-ion battery pack to run a 109-hp electric motor (81 kilowatts) that powers the front wheels. Its rating of 27 kilowatt-hours beats the bestselling Nissan Leaf's 24 kwh, and gives the Soul EV a range of 105 miles versus 84 for the Leaf. You'll shorten the all-electric mileage with quick starts, but if you want them they're there, along with highway passing capability.
The Soul EV includes a CHAdeMO DC fast charge port with plug lock, a 6.6-kw onboard charger for 240-volt Level 2 charging (versus 3.3-kw chargers fitted to other electric cars). Kia says a full charge from a flat battery takes 24 hours from a 120-volt wall outlet, or less than 5 hours from a 240-volt outlet. Kia offers a few options for home charging. The flat battery can be charged to 80 percent in 33 minutes using that 50 kw CHAdeMO thing, which isn't as awkward as its name. Soul EV comes at a high price, however. We think spending the same amount of money and getting two base Souls, one for yourself and another for your college kid, makes more sense.
Crash-wise, NHTSA gives the Soul five stars in every category except rollover resistance, with four stars; nothing can change the fact that it's tall and short. The IIHS makes it a Top Safety Pick. It comes standard with front airbags, seat-mounted side bags, and full-length side curtain bags. Four-wheel disc brakes are standard, while many competitors use drum brakes in rear.
New for 2016 is an inexpensive Convenience Package, including a rearview camera, touchscreen audio, and satellite radio; there's also a new Designer Collection package that brings a two-tone paint job. Alloy wheels become standard on all models, in 2016.