2016 Kia Sorento Introduction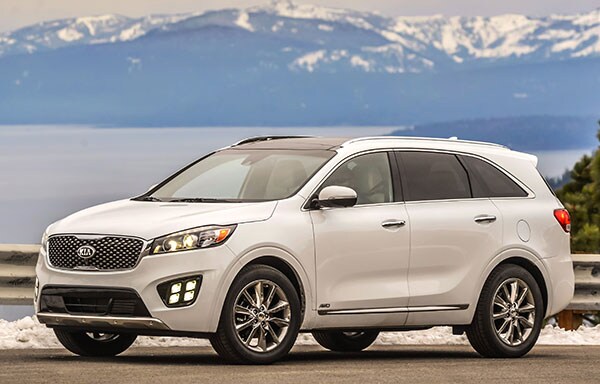 It appears that Kia just can't stop updating the Sorento. After switching to a unibody structure for the 2010 model year, Kia gave it a major refresh for 2014, adding a new V6 engine, a new platform, and 80 percent new or re-engineered parts. Now Kia gives us yet another new Sorento. A redesigned Sorento arrives as an early 2016 model, and it reflects all the work Kia has put into its midsize crossover over the past half-decade.
The 2016 Kia Sorento is three inches longer than the previous models, placing it squarely in the midsize class, while the last model could be viewed as compact. The increased size adds useful interior space, especially for front- and rear-seat passengers. As in the past, a third-row seat is available, upping seating capacity from five to seven. The third row is best used in emergencies or for children. The Sorento simply isn't big enough for third-row passengers to be comfortable for long hauls.
Front-seat occupants will be comfortable, though, and they will find the interior environment to be attractive and upscale, even in the base model. The top-end model features luxury amenities such as soft Nappa upholstery, a panoramic sunroof, heated and ventilated seats, a heated steering wheel, and a state-of-the-art infotainment system.
That infotainment system, called UVO, is standard on all but the base model, and it offers such features as access to apps through owners' smartphones, Siri Eyes Free voice control, geo-fencing and curfew alerts, and satellite services including real-time traffic, stock quotes, sports scores, and more.
The Sorento isn't ahead of the curve in terms of vehicle dynamics, but it is competitive. Greater use of high-strength steel improves torsional rigidity, which aids handling and reduces interior noise. The Sorento also offers some advanced features such as rack-mounted power steering and torque vectoring control for its all-wheel-drive system. On the road, handling is controlled, and the ride is smooth and quiet.
The Sorento is quietest with its smooth and capable 3.3-liter V6. Kia adds a 2.0-liter turbocharged four-cylinder engine for 2016, and it has as much torque as the six, though not quite as much horsepower. Response when accelerating from a standstill is somewhat lacking, but the turbo four is quite capable at highway speeds. We think this new engine offers a fine balance of power and fuel economy, and it would likely be our choice. The base engine is a naturally aspirated four-cylinder that delivers fine fuel economy but little power.
The 2016 Sorento ranges in price from just under $25,000 to the mid $40,000-range. With its three available engines it can serve as a budget-minded purchase for a small family or a fairly luxurious crossover for up to seven. We think the sweet spot is in the middle, around $32,000, for a 2016 Sorento EX with the turbocharged four-cylinder engine. At that price, the Sorento is an attractive and wise choice among midsize crossovers.