2016 Kia Optima Introduction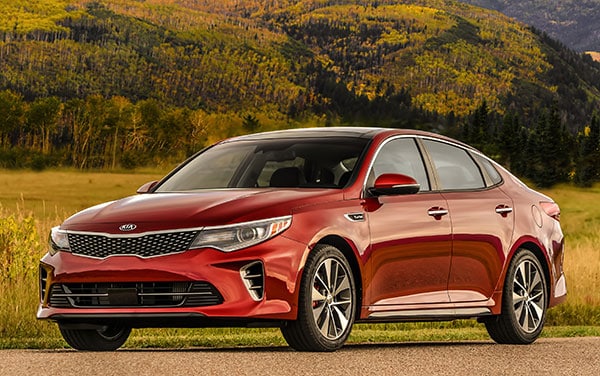 The Kia Optima is all-new for the 2016 model year. Road and engine noise have been quelled and the 2016 Optima boasts one of the most refined interiors in the midsize sedan class.
Though improved by nearly any measure, the 2016 Kia Optima is not distinctive in appearance. Its styling has evolved only mildly from the previous generation, so its form seems stuck in the past. While fine-tuning every detail of the sedan, Kia evidently preferred not to risk deviating too much from a car that had achieved impressive success. Underneath, however, the 2016 Optima qualifies as all-new.
Buyers can expect a quiet, nicely composed ride and a compelling value argument.
The 2016 Kia Optima offers a choice of three engines: a new 1.6-liter turbocharged four-cylinder along with the 2.4-liter four-cylinder and 2.0-liter turbocharged four-cylinder carried over from the previous model. All are front-wheel drive.
The 2.4-liter engine, available in Optima LX and Optima EX models, produces 185 horsepower and 178 pound-feet of torque. The 2.0-liter turbo generates 245 horsepower and 260 pound-feet. Both engines are slightly reduced in power, but retuned for better drivability for 2016. Each comes with a 6-speed automatic transmission. A powertrain switch has Eco, Normal, and Sport settings.
The 1.6-liter turbo, available for Optima LX, makes 178 horsepower and 195 pound-feet of torque, and comes with a 7-speed dual-clutch transmission that works like an automatic. Kia claims greater fuel-efficiency and a sportier feel, but we recommend 2.4-liter models for most buyers. Of course, we prefer the most expensive engine, the 2.0-liter turbo, which we found especially strong and smooth.
Optima is among the first models to offer Apple CarPlau and Android Auto. The UVO system now includes Geo-fencing, Curfew Alert, Speed Alert, and Driving Score.
Building upon its superior safety reputation, the Optima has a huskier structure and way more high-strength steel, and may be equipped with new active-safety features.