2016 Kia K900 Introduction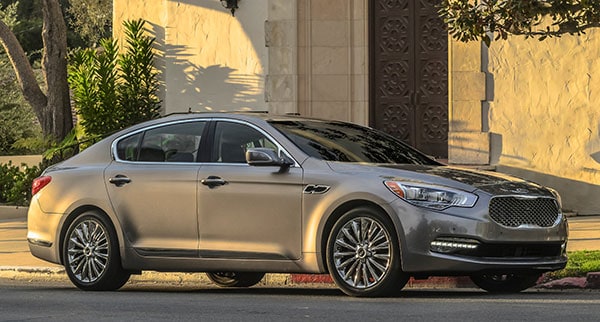 The Kia K900 full-size luxury sedan, launched for the 2015 model year, continues into 2016 with a number of changes, including a new V6 engine, expansion of available features, and revised model lineup. Updating of the grille and rear end added a little chrome to the latter.
New 18-inch alloy wheels go on 2016 Kia K900 V6 models, while V8s get 19-inch chrome wheels. Inside, the touchscreen has expanded to 9.2-inch size. Paddle shifters are now available on all versions. A Smart Power Trunk opens the lid automatically when it senses the key fob for more than 3 seconds.
Like the South Korean automaker's smaller, mainstream models, the K900 aims to deliver great value. While Kia's smaller cars benefit from crisp, European-style lines, the big K900 is less distinctive. Though the sedan is quiet, comfortable, and spacious, including the back seat, it falls somewhat short on distinguishing, upscale features.
Judged by styling, overall tone, and capabilities, the K900 could be said to score between premium and luxury. Like other Kia models, though, the K900 beats traditional competitors on price, which in itself can lure new buyers to the brand. Shoppers seeking to move up from a mass-market model are especially likely to be attracted to moderate-cost luxury.
Two engines are available: a 311-horsepower, 3.8-liter V6 and a 5.0-liter V8 that cranks out 420 horsepower. All K900 sedans have an 8-speed automatic transmission and rear-wheel drive. The V6 engine comes in Premium or Luxury trim; the V8 is Luxury-only.
Leather and wood trim help to provide a comfortable, appealing interior for upscale buyers. Behind the wheel, the K900 feels somewhat heavy, but is sufficiently enjoyable to drive. It lacks both the rigid solidity of a big Mercedes-Benz sedan and the sporty, passionate feel of a BMW. Yet, the K900 is predictable and easily understood, in addition to the virtues of comfort and quietness.
Fuel-economy estimates are about average, meaning less than thrifty. The V6 model is EPA-rated at 17/26 mpg City/Highway, or 20 mpg Combined. Moving to the V8 drops the rating to 15/23 mpg City/Highway, or 18 mpg Combined.
Active safety features include adaptive cruise control and an advance collision warning system with automatic emergency braking.