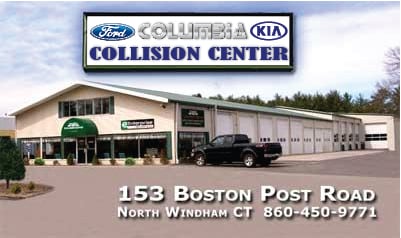 The Columbia Collision Center is the biggest, most modern body shop facility in Eastern Connecticut.

 We pride ourselves on helping customers with their claims from start to finish.

State-of-the-Art is the best description we can give you for Columbia Ford Collision Center. If you're in need of bodywork; large or small, we handle it all. We have the largest Collision Center in Northeast Connecticut. Our completely renovated building has 30 bays, a computerized paint match mixing system, and 2 downdraft paint-baking booths for a factory-like finish. We also use factory authorized OEM parts for most repairs, which are unmatched in quality. Our technicians are our most valuable assets, as they are professionally trained and ready to serve you. Rest assured, all repairs carry a lifetime warranty on work performed by our Collision Center.
If a time comes when you need our services, we will go above and beyond to alleviate the stress that goes along with having your vehicle in a "Body Shop." We are a Direct Repair Facility with most major Insurance Companies. This allows us to deal directly with them -- one less thing for you to worry about. if you are in an accident in the local area, simply request the state or local police to contact us at our main number any time of the day or night. Have your vehicle repaired here, and if towing is not covered by your insurance, we will take care of it at our expense within a 25-mile radius. We offer courtesy local shuttle service, and estimates are done on the spot. We will provide you with a complimentary loaner vehicle for one day for glass repair or replacement. Enterprise Rentals are located on site and vehicles are available to you at discounted prices should you require transportation for a longer period of time.
Our lot is fenced, lighted, and equipped with video security -- as we take the safekeeping of your vehicle very seriously. Once your vehicle is repaired, we don't stop there; it will be returned to you only after it has been custom washed and vacuumed at our on site "Spotless Car Wash." We know what it's like to be a customer, and we will do everything necessary to ensure your visit to our Collision Center is a pleasant one.
24 hour towing

Full glass repair & replacement service plus a one day free loaner

2 new computerized downdraft spray booths

2 frame straighten machines with full measuring systems

Computerized estimating system and computerized paint mixing machine

Weekend estimates by appointment only

Lifetime Warranty on all repairs Rentals & Loaners available on-site